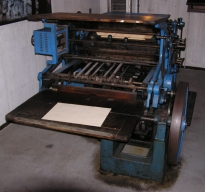 I turned down a really nice job offer the other night. An editor I know is looking to start his own small press and wanted me to have a key role in the operations, everything from editing to PR work.
I felt bad, but I had to turn him down.
It's an issue of focus. My goal is to be the best writer I can be, and that doesn't mean spending a lot of time reading other people's slush, or going to events and being social. It means a lot of sitting in front of a keyboard and making stuff happen, usually not good stuff, but if you do enough and scrape off the bad, things start looking better.
Honestly, I have been wondering if small press is really the way to go. I used to think that they would be the next-generation gatekeepers, but from my experiences with a publisher, I wonder how many of them are really up to that role.