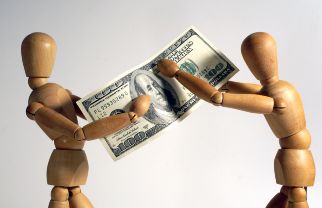 Okay, time to be controversial. I want people to read my books. I want people to read my books much more than I want them to actually pay for them. I would rather have 1000 people pay for my book and 100,000 read it, than have 10,000 people pay for it and 10,000 read it.
Now, I understand how that logic falls apart. Publishing is a business, and my future publisher (ha, how's that for optimism) will need to move X number of units to remain profitable. I might have even have to compromise a bit to stay in print. However, in the end, the readership is more important than my wallet. I don't consider that an irrational idea, just one that might not be for everyone.
I guess the reason this came into my head is because of the post I did yesterday about book group. I'd embedded a YouTube video of a pertinent clip from NTSF:SD:SUV. If you go there and click on it, you'll see that embedding is disabled and you have to go to YouTube's page.
Now, I always thought you put clips on YouTube because you wanted people to watch them, so they maybe got to like your show. Of course, if you force people directly to the YouTube page, you can get a few hundredths of a cent from ad revenue, which I'm sure Turner broadcasting really needs, but wouldn't not pissing off potential fans of the show go a lot farther? Maybe someone at Turner Broadcasting thought my readers might be confused and for some reason think that I produce that show?
I also found out that that particular clip is disabled for mobile devices. There is another policy that makes me scratch my head. Say I'm out with my friends (this is hypothetical, ya) and I say, "you have to watch this cool clip." Then the clip turns out to be a piece of text reading, "This Video Disabled for Mobile Devices." Isn't that the same as giving the middle finger to a group of potential viewers?
Then again, don't ask me. I obviously have skewed morals. I want people to see and like what I do.